Cycling is more than just a way of getting around, it is an "art-de-vivre", a combination of well-being,
protection of nature, the environment and slowing down the pace.
There are plenty of shaded cycle paths available so you can get around in complete safety.
La Grande Motte, an "Accueil Vélo" destination
There are a number of bicycle racks at strategic locations around the town, so cyclists can stop off wherever they feel like for a dip in the sea, to enjoy the beach, activities and local food and drink.
Bicycle rental companies are available with a wide range of mountain bikes, city bikes and electric bikes, to suit all levels and bike riding styles.
Info and reservations for bicycle rental companies:
Bumps cycles
Base de Loisirs du PONANT-TEAM ACTIVE
Cyber LGM
La Vida Loca
Loc n'roll
Vélo club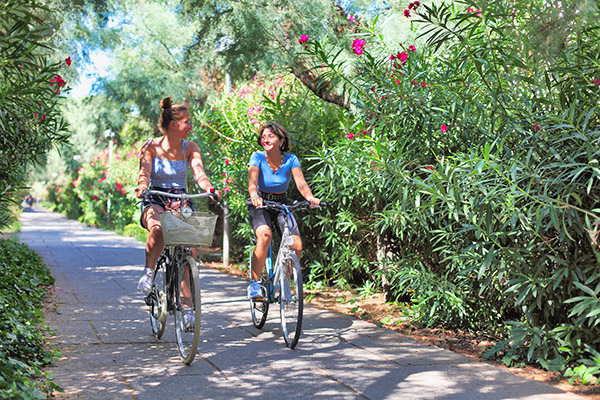 For more experienced cyclists on a cycling road trip, you can stay at one of our establishments bearing the "Accueil Vélo" label.  Half-board and full-board packages are available. If you would like to have lunch while enjoying nature and the surrounding views, you also have the option to request a picnic hamper full of fresh, local products.
Info and reservations for accommodation bearing the "Accueil Vélo" label:
Résidence ATC
Résidence Les Cyclades
Hôtel restaurant Les Corallines
Hôtel Le Quetzal
Sporty and eco-friendly: hop on your bikes!
Cycling is the perfect way to explore the long alleys of La Grande Motte, all year round!
Get your recommended dose of oxygen and set off to explore the area and see the sights. As a family, with friends, even with babies, there is a bicycle and a cycle path to suit everyone!
Via the Komoot application, we have created itineraries to explore the seaside resort and the remarkable sights, all within the town.
Go even further and set off on an adventure from La Grande Motte to see the surrounding area, the must-sees and our favourite places. Culinary, cultural or traditional tours of the Camargue and Pays d'Or are available for explorations of varying durations.
Download the application free-of-charge, it will make your life easier and allow you to make some new discoveries: KOMOOT.  App free to download on IOS and Android.
Other tools for exploring the area
Discovery tours:
Guide for sale at the Tourist Office (€1): a must-have for exploring La Grande Motte at your own pace, on foot or by bike.
There are 6 itineraries available within the town, according to the following themes:
Sculptures tour (10km) / The curved pyramids (4.5 km) / Parks walking tour (3km), The mark left by Balladur the architect (4.5km), From the sea to the lake (4.5km), Nature exploration (3km)
Cycling tours:
For sale from the Tourist Office (€1 each): half-day or full-day itineraries from La Grande Motte, to explore the surrounding area.
La Grande Motte regularly works in collaboration with artists from all walks of life on design projects.
For example, in 2017, designer Jean-Gabriel Causse and French cycling designer, Caminade, joined forces to create a bicycle inspired by the resort,
the shapes of its architecture, the color of its vegetation, and its play with emptiness and the air. Combining avant-gardism and eco-responsible virtues,
this special La Grande Motte bike has an electric assistance system that uses a motor and a battery that recharges with each braking action.