The Occitanie region is a gourmet destination where the taste of the land, excellence and conviviality
are part of a culture shared by all. Here are a few "nuggets" to discover around La Grande Motte
to put a little bit of southern accent in your plate and on your table!
Oenology: When vacations and vineyards go well together!
You are here in a land of vineyards that produces high quality wines. The diversity of the soils, the grape varieties and the climate offers a large choice of wines to be tasted at the time of the aperitif or the meal.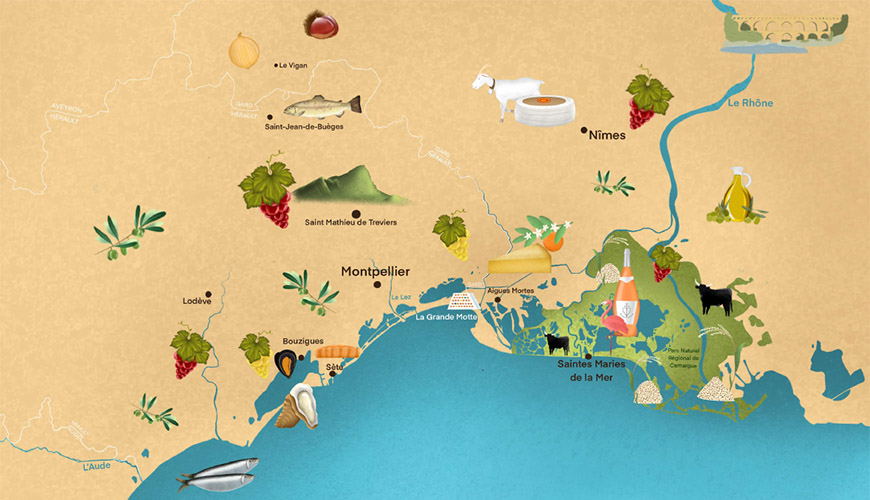 – Le Vin des Sables de Camargue
– Le pic Saint Loup
– Le Muscat de Lunel
– Les Costières de Nîmes
– Pic Poul de Pinet
– Terrasses du Larzac
Where to taste them ? Directly at the estate, in the cooperative cellars, at wine shops or with specialized guides (wine tour).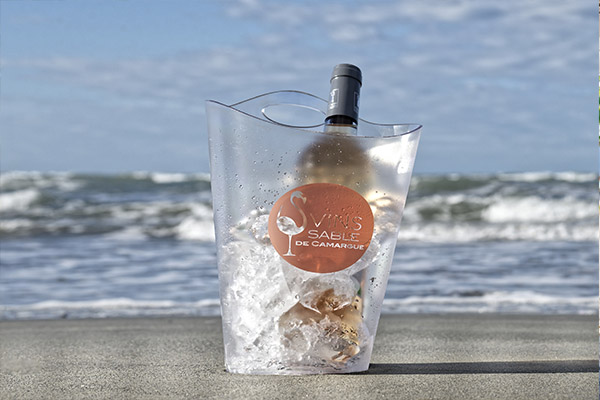 Gastronomy : taste the authenticity

Quality local products, Mediterranean flavours, come and meet the influences of the sea and the land!
La Picholine et les Lucques
Not to be confused! Enjoy them naturally, as a tapenade at aperitif time or as oil in a salad!
> Where to buy them : on local markets, directly from producers, in delicatessens or in olive oil cooperatives.
Les huitres de Bouzigues
With its iodized freshness enhanced by a hint of hazelnut, it is a delight for the palate. It can be eaten au gratin, with snail butter or with a shallot and white wine sauce...or raw.
> Where to find them : at the oyster farmers around the Thau Basin (sale and tasting), on the markets and at the fishmongers.
La fougasse d'Aigues Mortes
This soft brioche, scented with orange blossom, is a must for the most demanding of gourmets! To taste at any time of the day!
> Where to buy it : on local markets or in bakeries in Aigues-Mortes !
La Tielle sétoise
as its name indicates, it is a specialty of the city of Sète. This delicious little pie made with octopus and tomato sauce is a pure delight!
> Where to buy artisanal Tielles: in caterers and fishmongers, if possible in the market places of Sète!
Le Riz de Camargue
Yes, rice is grown in the Camargue and has its own Protected Geographical Indication. There are several varieties, including the famous red and black long grain rice. An authentic product 100% made in Camargue.
> Where to buy it: supermarkets and hypermarkets, and in all organic food stores.
Le taureau de Camargue
For centuries, the bull has provided a tasty, tender and low-fat meat. Living in total freedom, it is the emblematic guarantor of their maintenance and contributes to the richness of their biodiversity.
> Where to find PDO meat ? At the manadiers, at some butchers, caterers and restaurants of the region.
Les Halles : A concentrate of conviviality !
To eat, to have a drink and to buy everything, every day! Authentic places to taste local specialties with friends or family!
Les Halles du Lez
Les Halles de Béziers
Les Halles Laissac
Les Halles Castellane
Les Halles de Sète
Les Halles de Lunel