Rich in colors, aromas and tastings to the sound of the summer bands,
the markets will awaken all your senses.
Throughout the year, the gourmet and traditional markets are open for the pleasure of all. In the summer, night markets and local producers' markets reinforce these weekly friendly gatherings.
A moment of sharing, ideal for bargain hunting and strolling along the stalls to the rhythm of the different Mediterranean fragrances and scents.
Permanent markets
Gourmet market : bank of the pond of Ponant
Every Wednesday from 8am to 1pm all year round
Traditional market : Place de la Mairie
Every Sunday from 8am to 1pm all year round
Every Thursday from 8am to 1pm from June 1st to September 30th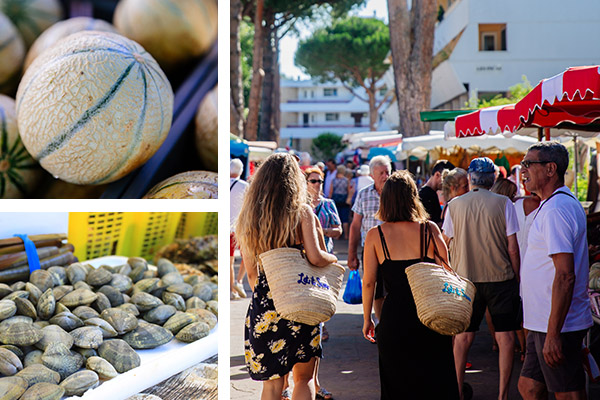 Summer markets
VILLAGE OF THE ARTISANS OF COUCHANT
Couchant – Esplanade du Couchant
Night market on Mondays, Thursdays and Saturdays
in July and August from 4pm to midnight
THE VILLAGE OF THE WINE GROWERS
Couchant – Place du Cosmos
Every Monday in July and August from 8am to 8pm
NIGHT MARKET
City center – Sea front Promenade Jacques Chirac
Every Sunday and Tuesday in July and August from 4pm to midnight