In the 70s, La Grande Motte was just dunes and marshland.
Today, this oasis that seems to have emerged from the sand,
features diverse green spaces that are enjoyed by everyone.
A garden town
La Grande Motte was created in such a way so that it would come to life over time, as the plant life here grows.
Today, this artistic masterpiece has reached maturity with 70% green and natural spaces. The pyramids can be spotted emerging through the dense vegetation, much like Maya temples.
This is the perfect town to take a stroll in the shade of the trees, or cycle along the many cycle paths that are always far from busy roads, or wander over them across the sculpted walkways.
Cycling has become the most popular way to get around this green oasis. Mediterranean "art-de-vivre" combined with the serenity of a green town.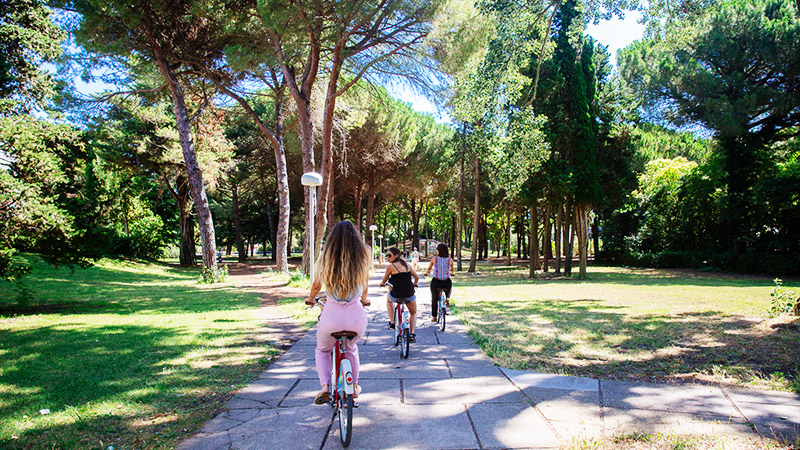 At the heart of the town are a number of hidden footpaths. Paths that are accessible to all, and lined with Mediterranean plant life.
The brand LGM by La Grande Motte has inspired a range of original urban furniture, as well as a variety of roses that was created with horticulturist Meillan. The flower can be seen in the public and private gardens throughout the town.
The pyramids built in the town centre also have a role to play in controlling the dominant winds of the Tramontane, Marin and Mistral. The architect placed the buildings at the intersection of these 'braked' winds, which are therefore less harsh on vegetation. When the sea spray comes in, the salt is captured by these same buildings that play the role of 'collectors' (close to 4kg of salt per m2/year).
It has taken 50 years for the town to reach maturity in terms of its appearance, to become a garden town. This creation came to be thanks to a visionary architect, Jean Balladur, and his head landscape gardener, Pierre Pillet.